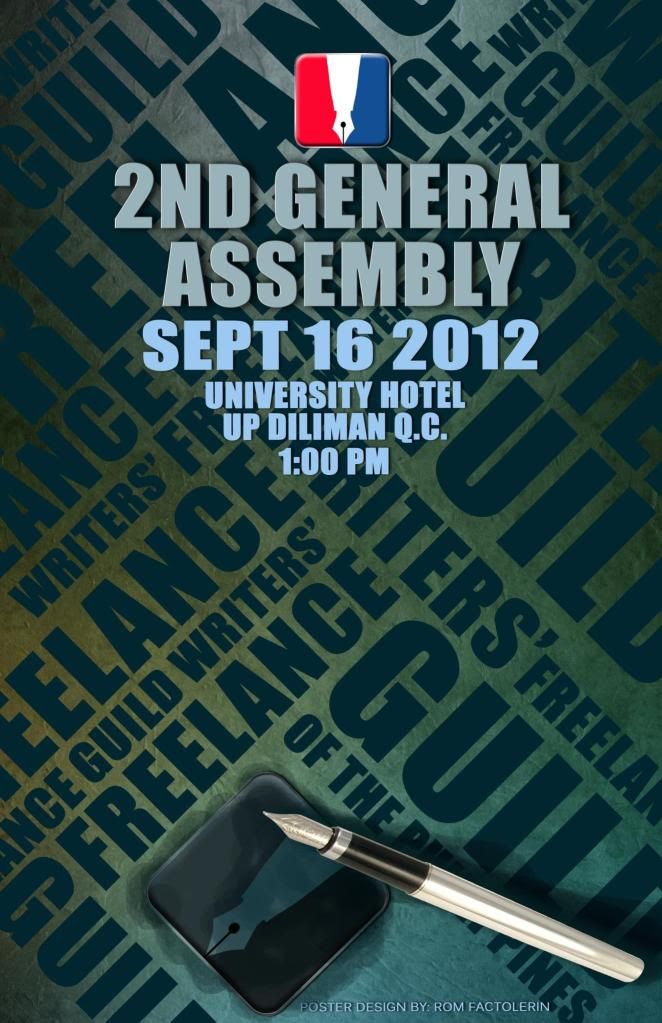 Source: Facebook Event https://www.facebook.com/events/276278749143689/
You are invited to the 2nd General Assembly of The Freelance Writers' Guild of the Philippines
September 16, 2012
1:00 p.m. to 5:00 p.m.
University Hotel, UP Diliman
Admission fee: Php 100 (to cover for venue and equipment rental)
- Guest speakers will present reviews about the local freelance writing landscape
- Executive Committee members will give updates on committee performance and present future plans
- Results of the Rates Survey will be presented
- Discussions will take place between chosen members of the freelance writing community and guest speakers
Other details:
1. Free WiFi is available.
2. You may order snacks from the hotel cafe.
3. Only those who have submitted their Info Sheets will be admitted to the event. You may fill up the Info Sheet via the online pre-registration form (URL is found below) or you may submit this at the venue.
4. Everyone is encouraged to fill out the FWGP's Rates Survey before the day of the General Assembly, but you may also submit this at the venue or you may fill this up via the online URL found at the pre-registration form.
5. FWGP shirts will be available for sale during the event.
Online Pre-Registration Form URL: http://bit.ly/OxjwOl
For inquiries:
Teena Estrada - 0915-3913129
Naomi Tupas - 0922-3185858
Reservation/Pre-registration is necessary as seats are limited.
If you would like to sell books and other related items during the event, sponsor the activity, perform, or provide volunteer service, please call the numbers above.
Related links:
Facebook Group Event: https://www.facebook.com/events/415594801837072/ 
Facebook Page: https://www.facebook.com/FreelanceWritersGuildPhils
Facebook Group: https://www.facebook.com/groups/139347056147493/
***
Update from Ime Morales: ONE OF THE MOST IMPORTANT EVENTS FOR FREELANCE WRITERS THIS YEAR IS HAPPENING ON SEPTEMBER 16:
THE 2ND GENERAL ASSEMBLY OF THE FREELANCE WRITERS' GUILD OF THE PHILIPPINES.
MARK YOUR CALENDARS: SEPTEMBER 16, 2012, 1 TO 6PM IN UP HOTEL. SO MAKE SURE YOU GO TO THE MIBF (Manila International Book Fair) BEFORE SEPT 16, OKAY? :)
WHY YOU SHOULDN'T MISS IT:
1. There will be a talk by CELINE ROQUE about Online Freelance Writing), NOEMI PAMINTUAN JARA and freelancer.com's SHARON DE DIOS will be sharing their freelance writing experiences, too. Plus, seasoned writer BERT SULAT will also be sharing lessons, tips and advice for freelance writers.
2. We have also invited representatives from the client side (yes, you read it right, THEY will be there) to talk about what makes them tick, what turns them off, what skills you should possess, etc. We will be hearing from CES RODRIGUEZ of Yahoo! Philippines, CAMSY OCUMEN from freelancer.com, and YASMIN ARQUIZA of GMA News Online.
3. The panel of reactors will be composed of three freelance writers who will represent all of us (because we can't all be given the chance to speak): DINO MANRIQUE, STEPHANIE GONZAGA, and BEVERLY SIY.
4. PLUS, the results of the RATES SURVEY will be presented, together with the accomplishments and future plans of the the different FWGP committees.
The event will be hosted by VIVA ANDRADA and ANGELICA CARBALLO. Open forum to be moderated by SUSAN CLAIRE AGBAYANI. Performances by PETER ALLAN MARIANO and CHARLIE MORALES' band.
BOOKS WILL BE ON SALE AT THE VENUE!
FWGP wishes to thank our sponsors: FILIPINAS COPYRIGHT AND LICENSING SOCIETY (FILCOLS), AIR21, BUSINESSWORLD, HERWORD, BALANGAY PRODUCTIONS, TINDAHAN NG ITLOG NI KUYA, MICHELLE'S CUPCAKES, AGIMAT, AND MANY MORE.
YOUR ENTRANCE FEE OF P100 WILL BE USED TO PAY FOR VENUE AND EQUIPMENT.